TOP MOISSANITE BRANDS
 This superior selection of handcrafted Moissanite is second to none.  An over achiever in Cut, Colour, Clarity and Confidence. With elite clarity, light dances through these gemstones without interruption.  LUX Moissanite uses  4H crystalline polytype Silicon to produce the best "diamond like" Moissanite on the market.   Premium grade material to ensure a lifetime of brilliance and fire. Our gemstones are crafted to give just the right amount of light dispersion without the disco ball effect.  

LUX Moissanite is the house brand Moissanite at Moissy Fine Jewellery and each stone goes through a 3 step qualification process to ensure Clarity, Colour and Brilliance and a VVS1 rating. We have worked closely with our suppliers to offer LUX Moissanite at a competitive price, without the compromise of quality or beauty. 
Although we stand behind the quality our LUX Moissanite 100%, we want our customers to be confident with their purchase. Every LUX Moissanite piece over 1ctw , will be accompanied with a Certificate of Authenticity and a Limited Lifetime Warranty.
Charles & Colvard prioritizes environmental and ethical responsibility in the creation of their Moissanite. The arresting beauty and superior quality of a C&C gem, paired with our creativity makes Forever One or a Forever Brilliant a superior sustainable and conflict-free gemstone.
The name "Harro" was derived by the contraction of the words hearts & arrows.  All of HARRO moissanite has a clarity rating between VVS1 and VVS2,  That means that even under 10 times magnification, you will be hard-pressed to find any flaws inside the stone.​ Excellent choice for any everyday jewellery pieces.
Neo moissanite™ is grown and faceted in a way that allows us to create the exact look that the end buyer is looking for. NEO moissanite™ is the true conflict-free and ethical option in today's market. The NEO Moissanite™ warranty is not limiting. It is far superior in that it offers its own exclusive damage replacement some restrictions apply.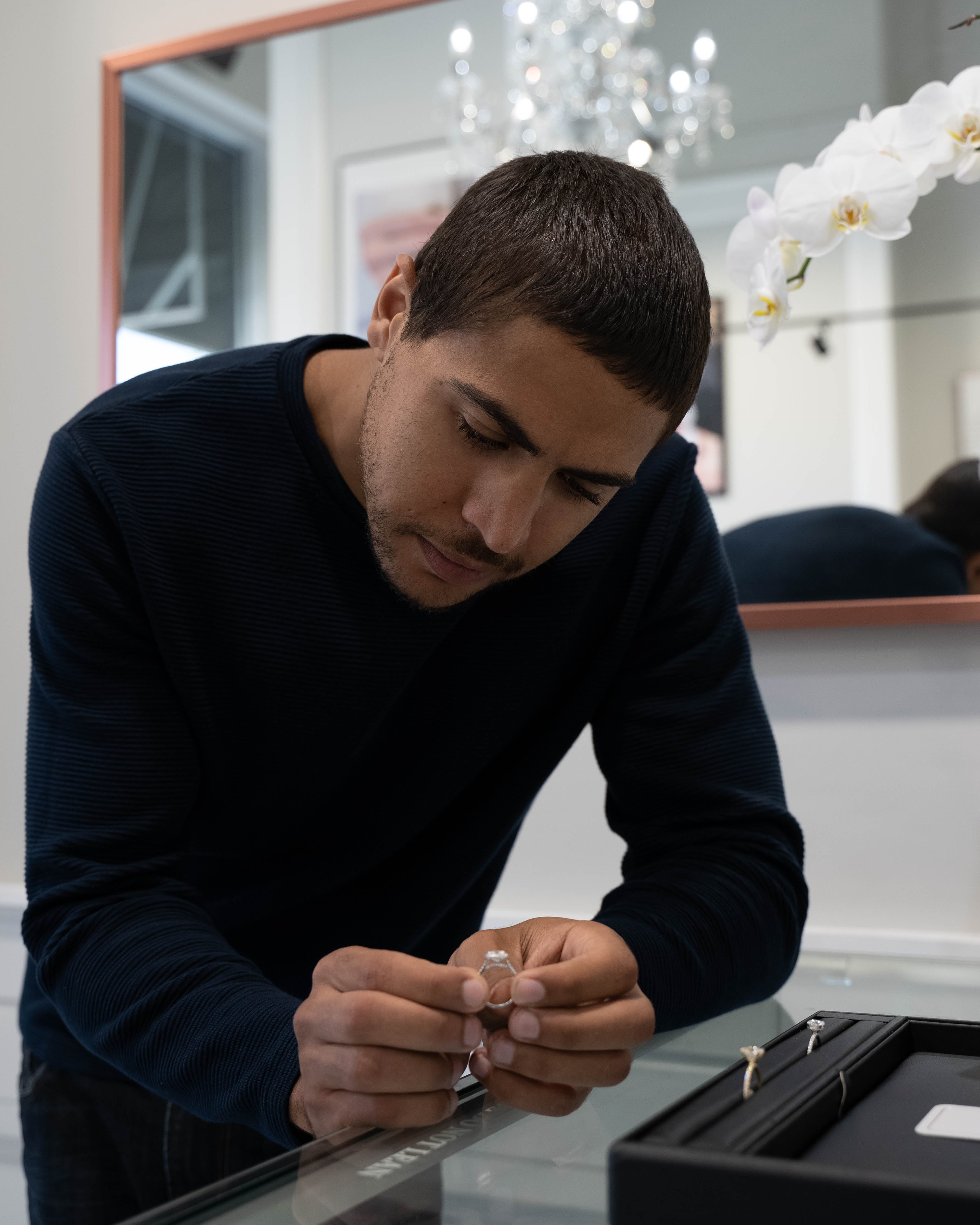 7 - Day Worry Free Return
Unsure of what your partner will love? We understand that preferences can change, even though we are confident in your satisfaction with your Moissy Fine Jewelry purchase. We firmly believe that purchasing jewelry should be a relaxed and stress-free decision. Therefore, we provide a worry-free 7-day return or exchange policy on unaltered showcase inventory purchases.
Moissy Fine Jewelry is proud to offer shipping within Canada and the United States for all of their moissanite jewelry pieces. However, we understand that there may be clients located in other parts of the world who are interested in our unique and personalized designs. As such, we encourage anyone interested in our jewelry to reach out directly to inquire about international shipping options. They are committed to ensuring that everyone has the opportunity to enjoy their beautiful and sustainable custom moissanite jewelry, regardless of their location.
How Much Does It Cost
Moissy Fine Jewelry offers competitive pricing for shipping within the United States and Canada. Clients can choose standard shipping or request a rush for faster delivery. All orders within the US are shipped via reliable and trusted carriers such as Fed Ex, UPS, or USPS for a flat fee of $29.99, and tracking information is provided so clients can track their package. At checkout, clients can choose a shipping method or in store pick up.
For those who need their order sooner, Moissy Fine Jewelry offers expedited services and shipping options for an additional charge.
It's important to note that for international orders, there may be customs fees imposed by the client's country. It's recommended that clients research their country's potential fees before placing an order.
In order to ensure safe delivery, all shipments require an adult signature upon delivery. Moissy Fine Jewelry takes the security of their clients' orders seriously and strives to provide a seamless and secure shipping experience.